There is nothing better than enjoying delicious and hot food in the cold weather of winter. Despite being an Asian country with a tropical monsoon climate, hot and humid all year round, winter in Vietnam is very harsh. Visitors who have spent the winter in Vietnam all think that "winter in Vietnam is not simply cold on the outside, you will feel the cold of the weather going to the inside of your bones, it makes you sore – the Vietnamese winter is very special".


As one of the provinces with cold spells of winter, to dispel the cold, Hanoi has many delicious dishes that can make your body feel warm and comfortable. In the article "Best 5 Hanoi Winter Food Recipes" we will introduce you to the recipe of typical Hanoi winter dishes that you should try.
Top 5 Hanoi Winter Food Recipes You Should Know
In Hanoi, the capital of Vietnam, winter in Vietnam lasts from November to early February. This month, it can be equally hot and cold, so no one knows what to wear when going out every day, whether it's a jacket, sweatshirt, or t-shirt. However, Vietnamese people know exactly what they should eat these days, not only in November but throughout winter. Here are the 5 most favorite winter food recipes.
1. Pho (Phở)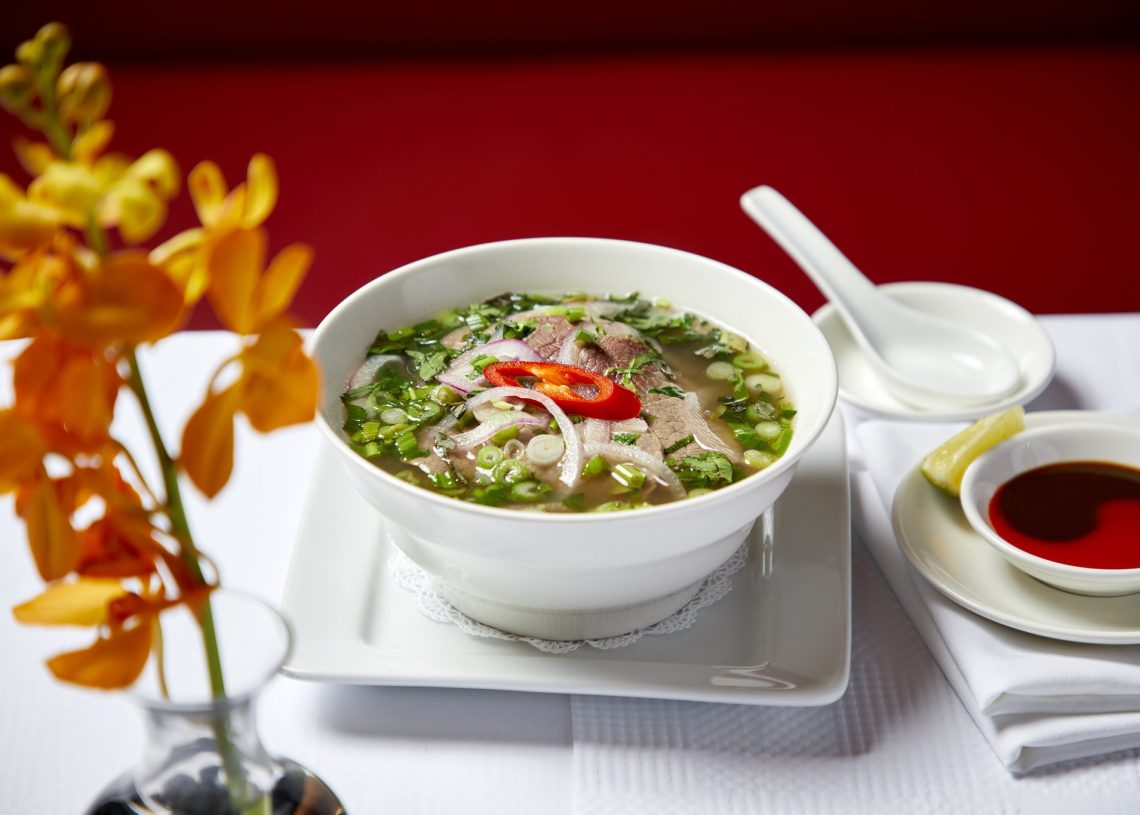 Saying about Vietnamese cuisine, you will think of pho. Pho is the most suitable dish to enjoy on cold winter days. Delicious taste, hot soup, and herbs cooked in the broth can make your body resistant to the harsh cold of winter.
Pho is a dish with water and long noodles that is easy to eat and digest. Pho noodles are made from thinly rolled rice flour and have long fibers. The broth is stewed from pork bones and herbs (anise, cardamom, cinnamon,…) so the water is very sweet and clear. Pho usually has many types including beef noodle soup, chicken noodle soup, and rib noodle soup, but the most popular is still beef pho. The thinly sliced ​​soft beef bowls put into the pho are delicious and rich in flavor. Besides, green onions and fatty water also contribute to increasing the flavor of the dish.
Try to imagine in the cold weather of winter enjoying a bowl of hot Pho, the steam rising from the bowl of Pho moistening your face and hands – How wonderful.
2. Hot-Steamed Rice Pudding (Bánh Đúc Nóng)
In second place Hanoi Winter Food Recipes is Hot-Steamed Rice Pudding.
This dish you should try when you come to Hanoi because not everywhere in Vietnam has this dish especially should be eaten in winter. You will feel the unique flavor and texture of this dish.
At first glance, you will think that the hot cake is like the Chinese Taufu, but it is not made from soybeans but mistakenly made from rice flour. When you taste it you'll notice it's like a pudding but it's hot and served with minced pork, scallions, and fish sauce – Isn't it interesting.
Hot-Steamed Rice Pudding is a soft cake made from warm rice flour with minced pork, mushrooms, deep-fried shallots, green onions, and sweet/savory sauce. This meal can be found in small shops in Hanoi. It can be eaten for breakfast, lunch, dinner, or any time you like. It is easy to digest and can be used as a main course and as a snack.
3. Rice Ball Sweet Soup (Chè Trôi Nước)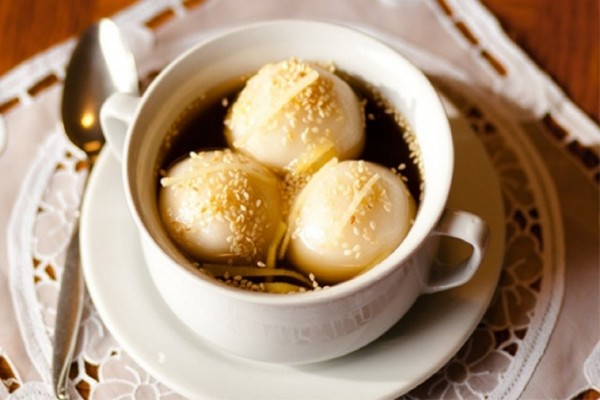 Rice Ball Sweet Soup is a snack of Hanoians. This dish is well-liked by both adults and children. Rice Ball Sweet Soup has two versions: cold water drifting tea and hot water drifting tea. But in winter, you have to try hot water drifting tea that is stewed with rock sugar and ginger which is delicious and can warm up your body. It's very suitable be the one of best Hanoi winter food recipes.
Che Troi Nuoc is a dish consisting of cake balls with a shell made of glutinous rice flour and the filling of the cake is rolled green beans. These balls are spherical and are stewed with alum sugar and thinly pickled ginger or iron. When eating, you can feel the softness of the crust and the fleshy taste of green beans combined with the sweet taste of rock sugar to create a great taste. Drift tea is also accompanied by coconut milk to increase the fat of the dish.
Rice Ball Sweet Soup is not only a snack but it is also used to treat diseases such as colds, and sore throats, … because it has ginger and rock sugar, which is very good for those who have colds in winter. Che Troi Nuoc is usually warmer when eaten hot because at this time, the cake is soft and the broth is sweet. Surely you will like it when you try it for the first time, it will give you the feeling of enjoying grandma's food.
4. Pork Rib Congee (Cháo Sườn Sụn)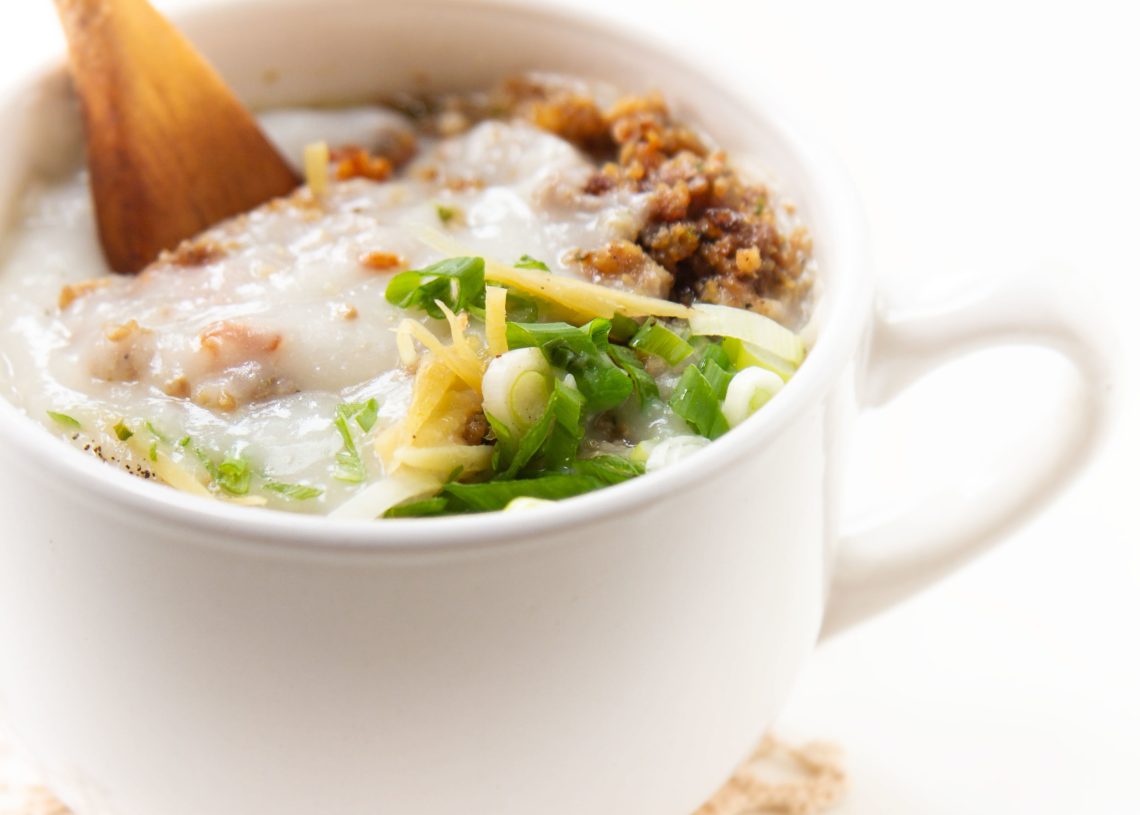 Another dish in the Top 5 Hanoi Winter Food Recipes is Pork rib porridge (Chao Suon Sun).
Pork rib porridge is a dish that many Vietnamese eat every day. When sick, a bowl of pork rib porridge is the best medicine because it has the ability to relieve colds and moisten the body besides it is easy to swallow and digest. In addition, on cold winter days, pork rib porridge with a warm and fragrant taste will be a great substitute to warm your stomach. A delicious bowl of rib porridge is a combination of the softness of the porridge, the sweetness of the broth and the aroma of green onions.
Pork rib porridge is made mainly from pork ribs and white rice. For an hour, it is recommended to stew the bones. Then, put the white rice in the broth and cook until the porridge is soft. Before putting the ribs into the porridge pot, you should take the ribs out. However, if a few ingredients such as ginger and pepper are missing, the pork rib porridge will lack flavor. Scallions and finger-shaped hot soups are also essential ingredients because they have a characteristic smell and pleasant taste. Before serving, these sizzling breads are broken into pieces and added to pork rib porridge
5. Vietnamese Streamed Stuffed Pancake (Bánh Cuốn Nóng)
.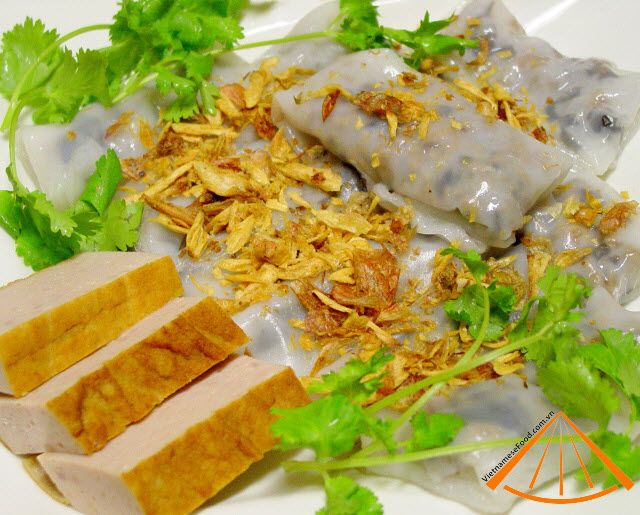 Last but not least in the list of the best Hanoi winter food recipes is Vietnamese Streamed Stuffed Pancake.
If you walk along the streets of Hanoi in winter, you will easily come across smoky Banh Cuon Nong stalls. This is a very familiar image in Hanoi in the early mornings when the temperature is still low. These amazing crepe rolls are famous on the streets of Vietnam because they are soft, served with fresh vegetables and fresh fish sauce, making a pleasant dish or snack anytime.
Banh Cuon Nong is a traditional dish of Northern Vietnam. The name of the dish is determined by the layers of the rolled cake, with or without the filling. Banh Cuon ('cuon' = roll) also refers to what Europeans call ravioli stuffed with rice, and Banh Uot ('uot' = wet) refers to rice noodles without broth.
However, these terms are rarely used interchangeably, and there are many types of Banh Cuon with different fillings and toppings, which vary greatly by region. Banh Cuon Nong is a crepe with a filling, while a wet cake is a crepe without a filling.
Streamed Stuffed Pancake is a dish made from Vietnamese dumplings, which are thin sheets of rice paper steamed with minced pork, wood ear, and sometimes bean sprouts. It is usually served with bean sprouts, chopped lettuce, sliced ​​cucumber, fresh basil and mint, red onion and fried onion, Vietnamese pork rolls (Cha Gio), and finally dipped with Fish Sauce. Vietnamese Sweet and sour fish sauce.
You have to enjoy this dish while it's hot and fresh, if you enjoy Streamed Stuffed Pancake in Hanoi, you'll witness the baker prepare it in front of you and bring you the latest cakes. and hot.
Although the way to make hot rolls requires skill and tools, you can buy slices of noodles and steam them or use a rolling machine, which will make this dish a lot easier to prepare
Conclusion
Winter is the coldest season of the year but also the season when the flavors of the dishes are enhanced. Moreover, when it comes to food, Hanoi dishes are the dishes you should try the most when it gets cold. Not only are they delicious, but they also warm up your body and boost your health. Hopefully the article has given you more suggestions on dishes to enjoy in winter to satisfy your culinary passion.