Do you immediately think of Pho when it comes to Vietnamese cuisine? If you are a lover of world cuisine in general and Asia in particular, you have made a big mistake. Vietnam is truly a culinary paradise with a variety of dishes from high-end dishes to street foods. You will be blown away by the scent and taste of these dishes. However, if you cannot travel or where you live there are no Vietnamese restaurants, you still want to taste them. Don't worry! Below, we bring you the 5 best Vietnamese food recipes that you can make in your kitchen.



Best Vietnamese Food Recipes: Top 5 Easy Home Cooking Dishes
It is very difficult to make authentic Vietnamese dishes in a country other than Vietnam. The taste of the dish depends a lot on the ingredients and spices that make it. But in foreign countries, it is very difficult to find spices and original ingredients from Vietnam. So, dichvutot247.com have created a list of the 5 best Vietnamese food recipes that no matter what country you live in, you can make these dishes.
1. Vietnamese Braised Pork Belly (Thit Kho Tau)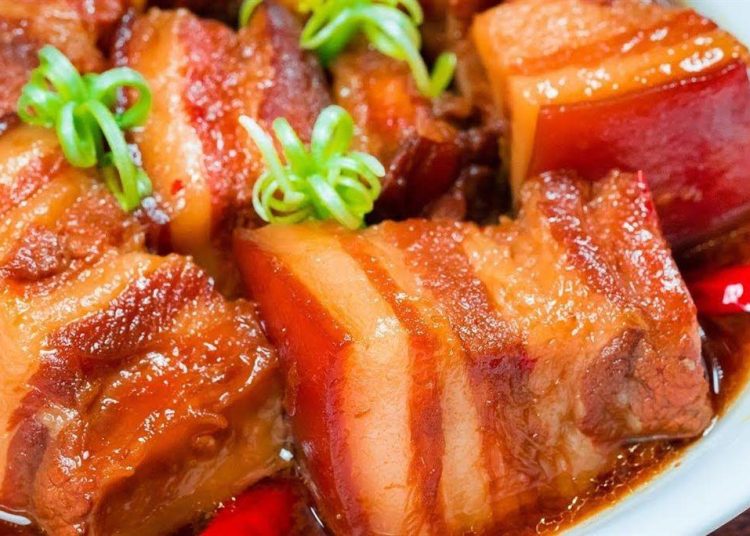 Among the best Vietnamese food recipes, it is indispensable to have Vietnamese Caramelized and Braised Pork Belly with Eggs, which is a dish bearing the cultural features of Vietnam.
This is a traditional everyday Vietnamese, discharge chunks of pork belly and cooked eggs are slowly simmered in coconut juice. To cut through the fat, Thit Kho Tau is generally served with rice and pickled bean sprouts (Dua Gia).  Thit Kho Tau is offered as a traditional delicacy for the Lunar New Year (Tet). It is offered to the deceased ancestors on the family altar before serving.
The pork belly is definitely the star of the dish. It's really soft, and the fatty skin melts in your mouth. It would be much better if you could get your hands on a boneless pork belly. Others, especially children, enjoy the eggs in the dish. Duck eggs are commonly used in Vietnam for a more delicious taste. The braised broth is both salty and sweet, perfect for dipping fresh or boiled vegetables.
Remember that this recipe contains a lot of fat. If you're prepping the ingredients for this recipe early, place the marinated meat in the fridge to cool. The lard will solidify when cooled. For a healthier dish, remove the pork belly with a spoon. Just don't take it all out as the fat adds to the flavor! Remove the pork belly and replace it with pork shoulder for a leaner version.
The trick to this recipe is that the longer it cooks, the more delicate the meat becomes, and obviously the more flavorful it becomes. If you want to make this authentic Vietnamese dish, don't rush it!
2. Summer Rolls (Goi Cuon)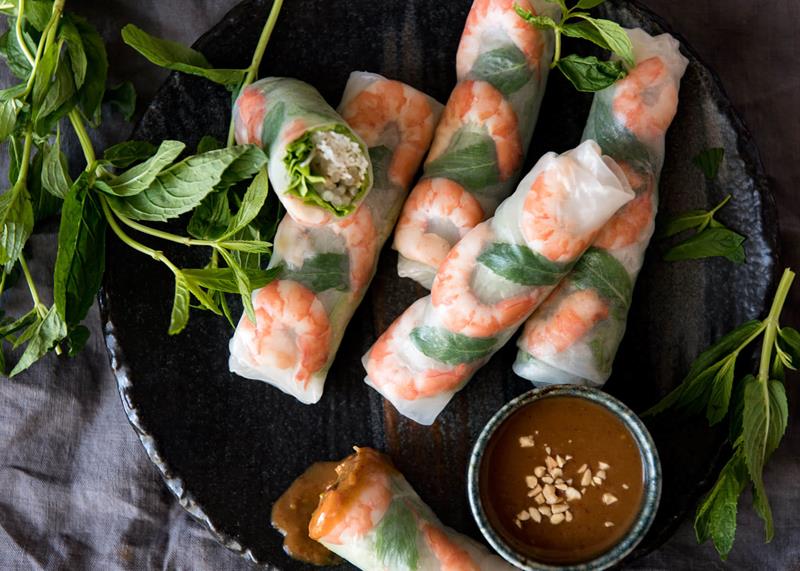 This traditional Vietnamese Spring Roll (Goi Cuon) recipe is packed with fresh vegetables, herbs, tender slices of pork, and shrimp, all topped with a fragrant hoisin and peanut dipping sauce.
These pretty little rice paper rolls include a herb salad with pork, shrimp, and vermicelli. Dip in the sauce (or salad dressing) of your choice. Goi Cuon is delicious and fun to eat. They are ideal for a large dinner party, where everyone at the table rolls their own, you will find the meal very enjoyable.
Vietnamese Summer rolls and Vietnamese spring rolls are never made at home in Vietnam. It has a lot of ingredients and most of them are live animals and take a long time to prepare. It even seems crazy to consider preparing and cooking this dish yourself when street vendors are selling them outside your door almost everywhere.
In Vietnam, Goi Cuonis not considered a main dish, it is just a snack or street food that everyone likes.
However, the ingredients you need to make this dish are readily available at your local market or supermarket. So you do not need to worry too much when cooking this dish. It is only complicated in the preliminary processing of materials, but you can ask the salesperson to handle it for you. The remaining steps to cooking the dish are extremely simple. Believe me, you will feel like playing with toys!
3. Crispy Vietnamese Crepe (Banh Xeo)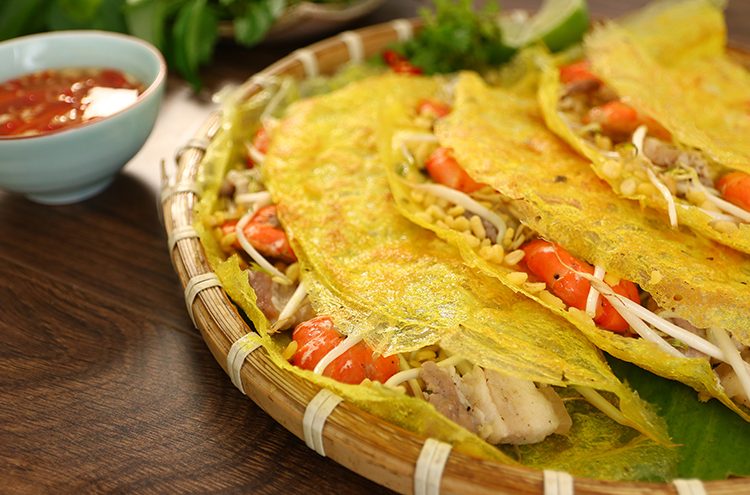 One of the best Vietnamese food recipes which I want to show you is Crispy Vietnamese Crepe.
Banh Xeo is a traditional Vietnamese dish, named from the sizzling sound it makes when it is fried on a blazing hot pan. Traditionally, these Vietnamese crepes are filled with shrimp, pork, green beans, and bean sprouts. The final crepe is torn into small pieces, wrapped in a salad with herbs, and dipped in an addictive spicy dipping sauce known as a dipping sauce.
This dish is suitable for rainy days because it is delicious when eaten warm. Vietnamese families often make Banh Xeo on occasions when many family members are at home. They will make Banh Xeo together and each person will take on a step in the making of the cake because this is a cake with complicated and time-consuming preparation.
However, the atmosphere at a baking time is very happy because everyone in the family can meet and talk.
4.  Grilled Pork Patties With Noodles (Bun Cha)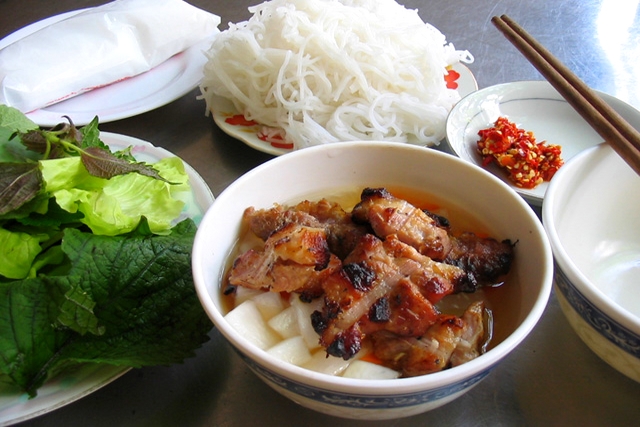 Besides Pho, Bun Cha is one of the best Vietnamese food recipes you should try!
Bun cha, commonly known as Bun Cha Hanoi in Vietnam, is a Vietnamese dish loved by Vietnamese people. This is a light and novel dish consisting of vermicelli (vermicelli), cha (cha), and thinly sliced ​​pork shoulder. Some great restaurants even include grilled shrimp. Fresh Vietnamese herbs and sweet chili sauce to go with the noodles and pork. Charcoal-grilled pork is the best part. Pork marinated in garlic and red onions grilled over a charcoal stove is enough to make you stop and grin like a schoolgirl.
Bun Cha Hanoi, as the name suggests, originated in Hanoi, Vietnam. Bun cha, like pho, is a popular dish in Hanoi. It's the Northern version of the Southern Vietnamese noodle dish. Both dishes are grilled pork vermicelli, served with sweet chili dipping sauce and a plate of fresh Vietnamese herbs. However, there are a few distinctions that you can overlook if you're not paying close attention.
At Bun Thim Nuong, vermicelli and meat are combined in one bowl. The dish is served with a dipping sauce (Mam Dot Sauce) sprinkled on top of the noodles. Before eating, everything is mixed together.
Meat at Bun Cha Hanoi is soaked in the dipping sauce. Use chopsticks to pick up some noodles, dip them in the dipping sauce, and serve with pork and Vietnamese herbs.
The dipping sauce is another distinguishing feature. The sauce of Bun Mam is slightly salty. The dipping sauce at Bun Cha Hanoi is a bit sweeter. Because of the mild form, the grilled meat at Bun Cha Hanoi has a dipping sauce, commonly known as broth. Often great granules of fat will float to the top of the broth. I have repeatedly picked up the bowl and sipped the sweet, sour, spicy happiness of the meat.
You can make both types of vermicelli, but the ingredients for making bun cha in Hanoi are easier to find abroad than grilled pork vermicelli.
5. Egg Coffee (Ca Phe Trung)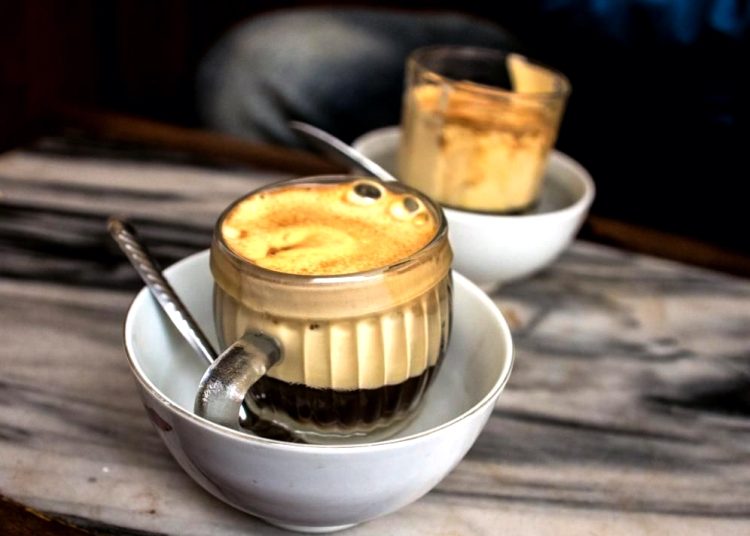 Another unique dish in the best Vietnamese food recipes is Egg coffee.
A cup of coffee mixed with eggs sounds strange and can be unpleasant to Westerners. On the other hand, coffee with eggs is very popular in other cultures because it makes for a rich and delicious beverage that is perfect for a delicious meal bursting with flavor.
The Vietnamese version is a dessert coffee, a smooth blend consisting of a layer of sweet foam hovering over a cup of black coffee. Imagine a tiramisu in liquid form, and you will picture the feeling of a perfect egg coffee.
The coffee cup with a layer of soft, velvety egg cream on top of the coffee is not too sweet. The Vietnamese espresso below is strong enough to keep you awake all day.
It sounds very complicated right, but actually making egg coffee is very simple and fast. The ingredients for this drink can easily be found in your kitchen. Read the recipe and start making it!
Conclusion
Vietnam deserves to be one of the world's culinary paradises because it possesses a lot of delicious and unique dishes. To be able to choose the 5 best Vietnamese food recipes for home chefs, we have considered them for a long time. Hopefully, the article has given you useful information on how to make Vietnamese dishes and can satisfy your culinary passion.